#DEARsummerfest playboyswag
official realese
for
cant call it
music video
Azuri live at drom
playboyswag
live
in jamaica
Claredon TUN UP 4.18.15 PlayBoySwag performs live. Hayes Main Road Jamaica
zingflash films
present
global autism awareness dinner
April is Global Autism Awareness month.Autism is a mental condition, present from early childhood, characterized by great difficulty in communicating and forming relationships with other people and in using language and abstract concepts.This year The Maia Chung Autism and Disabilities Foundation, will be enacting its second fundraising effort in New York City in partnership with Zingflash Films.Please click on the link below and purchase tickets and come help us make a difference in the lives of the Caribbean's American Autistic people.Share this information and please in getting the word out about the fundraiser we have planned - so that we can continue our work to help Caribbean American affected by Autism, here, regionally and around the world.The fundraiser will occur April 26-2015 in New York City and is being put on by the Zingflash film team based in New York City,The event will be the first of an annual partnership between the two entities and in addition raising funds for the pivotal issue of Autism, a neurological brain disorder that is rising in prevalence amongst the world's populations in the United States as well as the Caribbean region.The principals of Zingflash Films are Jamaicans based in the United States. In addition, one of the principals is a parent of two autistic children.
The company has produced a short film on Autism and its effects on families, which will be screened at the event Dining to Donate Dinner, Your individual team's valuable assistance over the years has in fact saved the lives of hundreds of Caribbean American who have no champion except us media people and the good-hearted people of the world.https://www.eventbrite.com/e/dining-to-donate-for-autism-aw…http://www.gofundme.com/zffautismawareness Please help us.
wave nightclub w/ david correy and special guest playboyswag
---
David Correy, X Factor Season 2 Finalist will be in attendance at WAVE Nightclub, located at 22 N 6th St. Allentown, PA. Presented by Positive Kyle, it will be attended by current rising artist, who recently released a major record produced by Jahlil Beats, PlayBoySwag. Join us for a classy night of a X-mas celebration.
---
can't call it single release party
Can't Call It Single Release Party Featuring PlayBoySwag x Multi-Platinum Producer Jahlil Beats x DJ Envy of The Breakfast Club/Revolt TV.
Location: Studio 21
Address: 59 West 21st Street NY, NY (between 5th and 6th ave)
Time: 10pm - 4am
Admission: Free with RSVP till 12 am, Free with "Can't Call It" by PlayBoySwag song download in each attendees phone till 12:30am, Reduced till 1 am for RSVP'd guest or guest that have downloaded "Can't Call It" song on from their music provider.
The Mic Booth FOR IMMEDIATE RELEASE
683 Tuxedo Drive
Suite 10
Elmont, NY 11003

Contact: Tim Turane
Title: Management
Phone: 347-744-7227
Email: themicboothinfo@gmail.com


PLAYBOYSWAG ANNOUNCES RELEASE OF "CAN'T CALL IT"
Hip Hop Artist Makes Strong Musical Statement About Life

New York, NY DEC 3,2014 – PlayBoySwag (www.themicbooth.com/) a native of Harlem, is proud to announce to fans that he has recently recorded and mastered a new record, entitled "Can't Call It", produced by multi-platinum music producer, Jahlil Beats. Beats' is the producer responsible for recently charting single "Hot N****" by Bobby Schmurda. Jahlil Beats also produced the Meek Mill banger "Ima Boss". The official release party will be held at NYC club Studio 21 at 59 West 21st street NY, NY. The party will be DJ'd by Power 105.1, The Breakfast Club own, known as the number one morning show in the country, DJ ENVY. DJ Envy is the lead host of the Breakfast Club, and is a VJ for MTV2's "The Week In Jams" and is highly touted as New York City top premiere DJs. Jahlil Beats will also be live and hosting the event.
Independent record labels PlayWorldMusic ENT and The Mic Booth have collaborated on this PlayBoySwag project, while Ryan Davis of The Debonaire Group and Tim Turane both executive produced the project. The name of the record is "Can't Call It", which is bass driven and sure to be a club banger.
PlayBoySwag routinely refers to any action he does as "King Shit". "Sometimes you may see something happen," says PlayboySwag, "or have a conversation with someone, or just be stressed on the phone with a bill collector and all you can say to yourself is that you "Can't Call It"."
The album was mastered by Grammy winner Chris Gehringer of Sterling Sound. Gehringer is responsible for a string of hits from Rihanna, Jay Z, and Lady Gaga to Nas, LL Cool J and Fat Joe.
PlayBoySwag hit the ground running with a meteoric rise after recording his first successful mixtape "The ComRad Voice of Soldiers" hosted by DJ Empire in 2011. Born Daquan Anthony Smith, PlayBoySwag was a crack baby born to an addict in Harlem, raised by his Uncle and Grandmother. Raised on the streets in the Mecca of Hip Hop, New York City, PlayBoySwag's music has a centered air of authenticity and realism. Offered a college scholarship to play basketball, he opted instead to follow his musical passion of Hip Hop, a skill he has been honing since, gathering quite a large and loyal fan base.
Currently, he is making a mark on the music community with his latest video, "Losing My Mind" featuring Young Money Cash Money Billionaire artist, Cory Gunz.
For more information, visit http://www.themicbooth.com/.

###


---
Powered by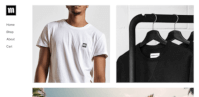 Create your own unique website with customizable templates.