Your own phone application
SKU:
$300.00
$300.00
Unavailable
Labor is $300. 24/7 customer support. Major network responsible for over 10 million phone apps on market. As authorized reseller of Conduit Mobile, we offer lower price point, more direct support, and creative marketing strategies. If you use our consultation, you will receive a $50.00 rebate on your app. You will be on Amazon, Windows Phone, iTunes, and Android devices. You will be required to pay a small monthly fee of $40 to maintain and keep your app live.
Powered by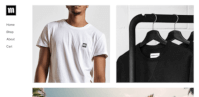 Create your own unique website with customizable templates.